Name Badges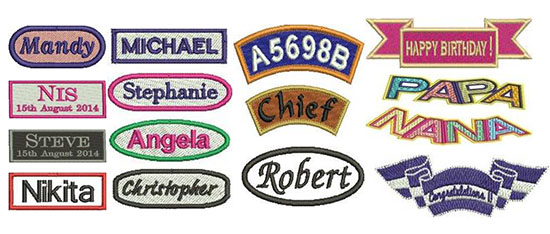 Description
more details
A
Name Badge
system in your workplace is a way of maintaining safety and productivity. The uses of employee name badges in the workplace offer the ability to identify anyone that enters the work area, and help management monitor employee reliability. At Graphic Stitches you can choose the height, colour and style of font, the shape and colour of back ground and the width and colour of the border of your name badge.
We do sew on or iron on name badges. You can order from 6 to 1000 or more name badges. We always send a visual of the embroidery file via email for your approval before we proceed with production. Your satisfaction is of utmost priority to us.
Please use our order online form to request a quote for custom embroidery name badges. If your enquiry is of more general nature, please
click here
At Graphic Stitches we will customise any shape, colour or size of name badge or patch. The background can be any colour whether it be fabric or embroidered. You can also choose the shape, colour and width of the border and the font style, height and colour. We do sew on or iron on name badges. There are a variety of name badge borders to choose from. From the drop down menu on the right you can list the dimensions, back ground colour, border colour, font colour and style.
Please use our order online form to request a quote for custom embroidery name badges. If your enquiry is of more general nature, please
click here
next
prev