Apparel Supply
Graphic Stitches can supply all your apparel or uniform requirements from polo shirts, work wear, safety wear, sports wear & team wear to corporate wear, hospitality & health, outer/winter wear, headwear and more.
Any item in our range of clothing can be decorated with your company logo. We offer the best quality embroidery services to brand any logo on your choice of clothing.
Once you have made your choice please list the name of Catalogue, the style code, type of garment, colour, sizes & quantity required. Please contact us for a quote with all relevant information and we will get back to you with a price..
We Make It Simple to Submit Your Logo Design
To submit the quote, simply fill out your contact details on the form including your email address and phone number. Then upload the file with your logo in one of the designated files. Add a message if you so choose before submitting the form for a quote. You will find that our online form is extremely user friendly.
How About a Badge?
Because we offer a large array of apparel, you will want to make a decision as to the style that best fits your business or organization's requirements. If you have not decided on a clothing style, then you can always place an order for a logo-designed patch or badge. We make it easy for you to select an accessory even if you are undecided about a specific clothing style.
Our Ball Caps Will Highlight Your Logo Just About Any Time
You can also create some walking billboards for your organization or company with the various styles of ball caps we supply. Add your logo in the center of the cap. We can also embroidered the sides and rear of caps if needed. Caps are often preferred as they can be worn with just about anything. Plus, if you have not noticed, some guys never go anywhere without wearing their cap, thanks to a receding hairline.
Branding Will Get You Noticed
Branding is an important component in business today, whether you are using it online or in the brick and mortar world. When it comes to a supplier in Perth then, you can feel confident in knowing that our apparel supply of clothing is all-inclusive and therefore can be easily matched with your particular logo design.
Sophisticated, Yet Casual
As indicated, certain shirt styles match better with certain businesses. For example, you might choose a polo shirt with logo design for such organizations or businesses as country clubs, landscaping services, pubs and restaurants, electronic stores, automotive part outlets, or sports or athletic organizations.
Logos for T-shirts
If you are looking for an overall casual look, then a t-shirt with logo design might be preferred. Incorporate a logo brand on t-shirts that advertise pubs, restaurants, car washes, school sports organization, company-sponsored events, non-profits and bakeries.
Boost your Business' or School's Team Spirit
Naturally, a jersey is an obvious choice is you are buying logo apparel for your company's baseball team or a sports team at school. You can't help but cheer on the team when you see how nicely your logo appears.
Please scroll down to view the variety of apparel and uniforms listed below to make your selections.
---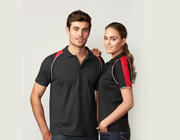 POLO SHIRTS
The polo shirt is one of our most popular items which come with a massive spectrum of designs, fabrics & colours. Select from a large selection of men's, ladies & kids, to suit any event. Embroidered with your business logo, polo shirts can venture that casual, yet professional image you are after.
Learn More
---
SHIRTS
With or without a tie a collared shirt says professional whether it's for retail, corporate, or hospitality environment.
Learn More
---
T-SHIRTS
Are you searching for a plain T-Shirt? If so, Graphic Stitches has a large selection of plain T-Shirts best suited to your business logo. T-Shirts are an affordable and highly effective way to advertise your business or event.
Learn More
---
WORKWEAR & SAFETY WEAR
Graphic Stitches can supply you with a complete workwear uniform solution including corporate workwear, drill, casual, or even hospitality. We have high quality garments at reasonably competitive prices, backed by quality service and professionalism.
Learn More
---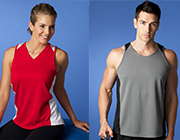 SPORTS & TEAM WEAR
Sportswear is a great way to show team unity and commitment. Graphic Stitches has a large selection of sports uniforms to pick from. Jerseys, team Tracksuits, & sports bags are also an awesome way to promote your team.
Learn More
---
CORPORATE WEAR
Corporate Outfits builds visibility & awareness for your company/business name while providing staff a professional look. Wearing a uniform illustrates a sense of pride in your company & serves as a walking advertisement. Select from a wide variety of designs, fabrics & colours to develop the "look & feel" of your organization uniform.
Learn More
---
HOSPITALITY & HEALTH
Focusing on the specialist hospitality apparel, we have apparel suitable for chef and kitchen, restaurants and cafes, to bars and pubs.
Learn More
---
OUTERWEAR / WINTER WEAR
Graphic Stitches provides a new generation of wearable & versatile outerwear. Whilst comfort is key, our wide variety collection of top-quality custom outerwear also gives a large number of designs and styles which appeal to each & every lifestyle.
Learn More
---
HEAD WEAR
Talk about a billboard for your company, service or product… our hats & caps carry your message all over the city right with you & make sure your message is passed on everywhere you're going. Adding your company logo to a advertising cap or hat is an inexpensive and effective way to express your message & the opportunities are endless!
Learn More
---
BADGES & PATCHES
We create Custom Badges & Patches for Clubs and Organisations. Badges and Patches are available in a variety of shapes, sizes, styles and colors with various sizing and colors for borders as well .
Learn More
---